October 20, 2022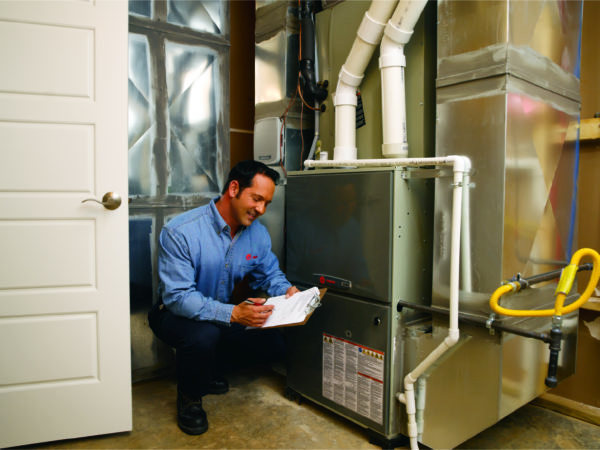 Gas furnaces are an effective way to heat your home, but they come with some risks. Both gas leaks and carbon monoxide poisoning can potentially occur if your furnace is old or damaged. It is essential to have your heating system professionally inspected and maintained regularly. In the meantime, look for the following signs to help you determine if your furnace has a gas leak.
Rotten Egg Smell
Natural gas is odorless and colorless, so on its own, it is impossible to detect. To overcome this issue, gas companies add a chemical known as mercaptan to natural gas. Mercaptan has a distinct odor similar to rotten eggs. If you ever notice a rotten egg smell in or around your home, it indicates a gas leak somewhere in your house.
If the smell is only barely noticeable, this indicates a minor leak. In this case, you can try to trace where the smell originates. Once you've located the source of the smell, you should wait a few seconds to see if it goes away. If it doesn't disappear, it's time to contact an HVAC technician for an inspection.
You will often faintly smell natural gas for a few seconds after your furnace or other gas-burning appliances turn on. If the smell almost instantly goes away, then it is probably not a cause for concern. If the smell persists, you will want to immediately close the gas supply to the unit and leave it off until you can have it professionally inspected.
If you notice a strong odor throughout your home, take immediate action. Get yourself and any other people and pets out of the house. Before leaving, quickly open up as many windows as possible to help the gas dissipate and lessen the chances of an explosion. Once you're safely outside and across the street, call the gas company or the fire department to report the leak. Don't return to your home until it has been inspected and the leak is repaired.
If it smells like natural gas outside your house, this is a sign that the gas supply coming into your meter is leaking. Again, this is a serious issue, and you should immediately vacate the property until the gas company can turn off your gas and repair the leak.
Listen for Hissing Noises
If the gas supply to your furnace is leaking, you may hear a hissing noise in addition to the rotten egg smell. If you hear hissing, this indicates a severe leak. As a result, you need to shut off the gas valve and arrange an immediate inspection.
The Importance of Professional Furnace Inspections and Maintenance
Luckily, natural gas leaks are rare. The risk increases if you neglect to have your furnace and other gas appliances inspected and maintained yearly. During a furnace inspection, the technician will examine the gas supply lines and the gas lines inside the unit to ensure that they are free of damage.
A furnace technician will also inspect and clean the entire furnace and the blower fan. This prevents many common furnace issues, reduces HVAC noise, and improves your heating system's energy efficiency.
An inspection allows the technician to ensure that the exhaust flue and heat exchanger are working properly. A cracked heat exchanger or a faulty exhaust flue can lead to carbon monoxide filling your home, which can be deadly.
Experts recommend that you always have a carbon monoxide detector within 20 feet of your furnace and all other gas-burning appliances. Conduct a test on all of your detectors on a regular basis to ensure they are working, and replace them every 10 years.
Your Local Furnace and HVAC Experts
At IBBOTSON Heating & Air Conditioning Co., our certified HVAC technicians specialize in furnace inspections and maintenance, and we will take the time to ensure that your furnace isn't leaking or experiencing any other issues that might affect its performance. We work on all types and brands of furnaces. We also inspect, service, and repair air conditioners, boilers, water heaters, air purifiers, and humidifiers for customers in Arlington Heights and the Greater Chicago area. We are a Carrier Authorized Dealer and a Lennox Premier Dealer, and we can help if you need any HVAC units replaced. For more information or to schedule a furnace inspection, call the experienced staff at IBBOTSON Heating & Air Conditioning Co. today.